Qlik Sense Overview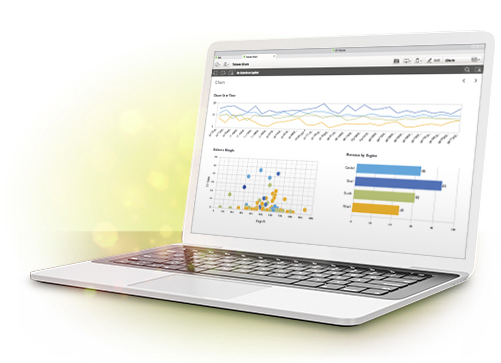 Introducind Qlik® Sense- Unleash You Intuition
Imagine an analytics tool so intuitive, anyone in your company could easily create personalized reports and dynamic dashboards to explore vast amounts of data and find meaningful insights. That's Qlik Sense — a revolutionary self-service data visualization and discovery application designed for individuals, groups and organizations. Qlik Sense lets you rapidly create visualizations, explore data deeply, reveal connections instantly, and see opportunities from every angle.
Interactive data discovery and visualization lat your instinct lead the way
Qlik Sense makes visual dashboard creation simple and intuitive, but doesn't stop there. Qlik Sense also makes it easy to explore the data so you can understand what's happening and why. Ask questions. Follow your intuition. Seamlessly navigate vast amounts of data from multiple sources. Then share your insights visually and accurately knowing the analysis, commentary and content are based on reliable, governed data.
---
Drag-and-drop visualizations reveal hidden insights

Smart Visualizations in combination with the patented Qlik data indexing engine uncover all the relationships between data dimensions, revealing insights that would have been hidden in traditional hierarchical, query-based data models.

 
 

Smart Search gives you ultimate flexibility

Not sure where to begin looking? No problem. Simply type in search strings so Smart Search can connect the dots, uncovering data relationships and information in places you didn't think to look, prompting you along the way.

 

Explore multiple data sources in a single app

Qlik Sense connects to multiple data sources to provide more comprehensive views, without compromising performance.

 

Access analytics anywhere, anytime, on any device

Solve problems on the go. Move seamlessly from desktop to tablet to smartphone, while Qlik Sense automatically adapts to the device. Wherever work may take you, Qlik Sense helps you respond in real time and keep ideas in motion.  

 

Rich data storytelling helps you collaborate and share insights

Our data storytelling functionality makes it easier to share analysis visually, communicate your findings with teams, and collaborate more efficiently.

 
 

Governed data enables self-service simplicity

Any user can create their own data visualizations, dashboards, and reports while giving IT confidence that they're drawing upon consistent, secure libraries and governed data.